An ERP Project is an exciting and challenging step in a business.
You need to invest time & money, but you can gain so much!
This is a real opportunity to grow your business, to make it better.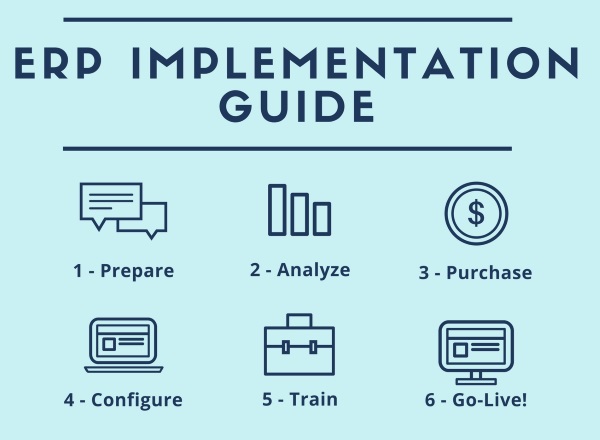 I won't lie to you. It's a challenge.
If you want to succeed in your ERP project, you need a good plan. And a good execution.
Are you willing to put in the effort to bring to company to another level?  You think you are ready for an ERP implementation?
Great! Let's start!
ERP Project – 6 Steps
There are 6 steps in a successful ERP Implementation Project.
Take your time to accomplish each one and do not to cut corners. Otherwise you'll have unpleasant surprises down the road!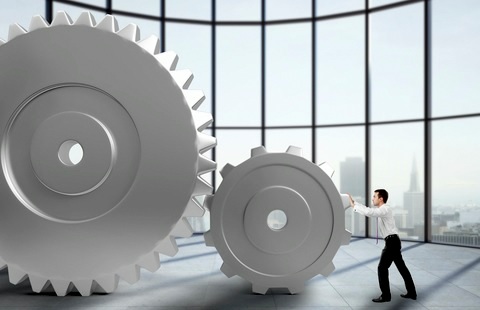 Step #1 – Prepare
You ERP Project will last for months. Take the time to start on the right foot.
Let's start by creating a good ERP Implementation Plan to make sure everything is aligned for success.
Make sure higher management agrees on the objectives, budget and the time frame. Do you allow enough time & money? Does everyone agree on the objectives?
More importantly, carefully choose your project leader and super-users. They are going to greatly influence the outcome of your ERP project
Step #2 – Analyze
The Business Analysis is the single most important step of your ERP Project. Why?
Because chances are you, if you cut corners here, you will fail your implementation.
You need to know exactly how things are done in your company.
There are a lot of ERP systems on the market. At first sight, they might look like they all fit your business, but actually only a few will be a very good fit. To know which one fits the best, you need to do a thorough business analysis.
Two important questions are answered during the business analysis:
"What do we need?"
"How do we do what we do?"
Business needs analysis – "What do we need?"?
The business needs analysis will analyze what every employee needs in an ERP. It'll provide a way to compare each vendor and to make sure the ERP does exactly what we need.
With the needs analysis, you'll also be able to rate those different ERP. How do you choose the right ERP when all of them have strength and weaknesses. This analysis will provide that answer.
Don't put enough time and effort in the business needs analysis and you risk ending up with a system that doesn't fit the employees' requirements.
Business processes analysis – "How do we do what we do?"
The second step is the business process analysis. Here, we'll analyze how the company works and make sure the ERP will be able to manage the company's processes.
If it's something you've never done before, get ready to get through a process re-engineering. It's important to solve processes issues before starting looking for an ERP. You don't want to put a new engine on a rusty car…
The processes analysis will make sure that the ERP will be able to support how each department works.
Skip the process analysis and you'll end up having to adapt your business to to ERP instead of the ERP adapting to you.
Time needed for an ERP Business Analysis
The business analysis should take anywhere from a few weeks to a few months. Take your time. Do it right. This is how you get a great ERP.
Get help!
I strongly suggest the help of an external consultant to support the company during the business analysis. Most companies don't have the knowledge to go through that step.
Step #3 – Choose your ERP
A few interesting discussions will take place during the selection of the ERP system!
No ERP is perfect and none will answer 100% of your needs (at a reasonable cost). Some are very good in the manufacturing area, some better at CRM, some have great reporting tools but are lacking in flexibility, some are complex to use but very flexible. Compromises will have to be made.
That being said, this step should go smoothly if the business analysis was done properly. It's simply a matter of finding the ERP that best fits your business.
Review 5 to 10 of the most renowned ERP in your industry and compare their features with the business analysis. Then, thoroughly test the 2 or 3 best ones.
Once you've selected the ERP, then it's time to work with the vendor to configure the system.
Step #4 – ERP Project Configuration
The fourth step in an ERP implementation process, the ERP integration phase, is actually the one where you have the least to do!
The vendor's integration team will build your system according to your business analysis (thus, the importance to make a good one).
Here, they'll configure the ERP so that it work with your business. The system will be configured and customized to adapt to your company.
How long does it take?
A system integration usually last a few weeks until the employees are ready for training.
One important tip
Make sure you follow the progress of the vendor's team. This is an important step and you want to make sure that the vendor doesn't cut corners. They have a lot of work to do and you want to make sure the system will work as needed.
Have someone outside the vendor's team that follows them. Make sure he follows closely how they configure the system and that it answers everything you provided in the business analysis.
The business analyst that helped you in the previous step is probably the best person to do that.
Step #5 – Testing and Training
At the end of the integration, it's time to train the employees.
Testing
Before doing that, make sure that a thorough testing have been done by the integration team. Because if there's a lot of problems in the beginning, users might lose faith in the new ERP. And you know what they say: first impression is the most lasting. Problems are bound to happen anyway in the beginning, but the goal here is to limit them.
Training
Make sure you allow enough time for the employees to really understand the system. The next step is to use the system, you don't want them to learn on the spot…
Learning a new ERP demands a lot of energy and it takes time to get comfortable. Make sure it is done in a period where business is slow and that employees are supported adequately.
Step #6 – Deployment
Wow finally… we're here.
It's finally the last step of our ERP Project. It's time for deployment, time for the Go-Live.
How do you do that?
Key decisions to be made
Here, key decisions have to be made with the vendor's team.
How do we start using that ERP?
Implementation methods
There are two very different ERP implementation methods.
The first method says you should implement the software in every department, all at once. This method is riskier and the first few weeks are often chaotic, but it ensures that the ERP is quickly adopted by the whole company. This will save quite a lot of time and money in the end.
The second method says that you should implement the ERP step by step, module by module. This method has the advantage of being flexible and letting the users get used to the system, but it will take much longer.
This decision depends on the scale of the project, the changes that were made in the business processes and if the users are well-trained and ready to adopt the software.
Make sure you chose a slow period for the Go-Live. Using a new ERP demands a lot of effort in the beginning and productivity will necessarily be affected.