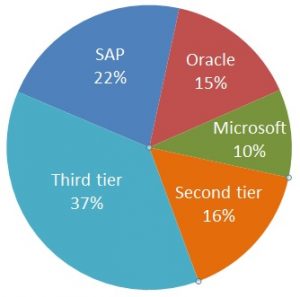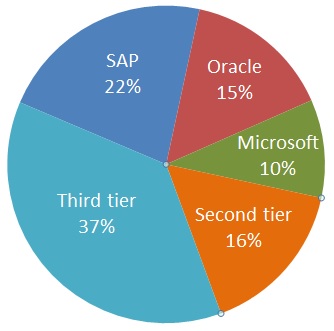 The ERP market share is basically divided in 3.
The first tier is the biggest ERP software companies that dominate the market: SAP, Oracle and Microsoft Dynamics. Together, they hold more than 50% of the market.
The second tier is dominated by the smaller players Epicor & Infor. They hold about 15% of the market.
The third tier, that holds more than 35% of the ERP market share, is for the smaller players. It includes thousands of ERP often aimed at small to medium businesses.
First tier –the Big Three
Oracle and Microsoft built their ERP suite through acquisitions. SAP also used that strategy, but actually started as a manufacturing system and then proceeded by development and acquisition.
All together, they swallowed almost all of the medium ERP companies that existed, making them so dominant now.
SAP – 22%
SAP is the world leader in the ERP business and is known as the first real ERP on the market. It holds 22% of the market and has been the leader forever.
They originally specialized in manufacturing and developed over the years a whole suite of systems for large enterprises' needs.
Very few small to medium businesses use SAP (even if they now have a suite called SAP Business One which is aimed at smaller companies).
Oracle – 15%
Oracle is originally a database management system that became a major player in the ERP market through acquisition of other ERP systems. JD Edwards and PeopleSoft are probably the best-known software they bought.
Oracle holds about 15% of the ERP market share and their solutions are also aimed at larger enterprises.
Microsoft – 10%
Microsoft has entered the ERP market with the acquisition of the Great Plains suite in 2000, since then renamed Dynamics.
Microsoft Dynamics integrates with all Microsoft's server products and they also implement their ERP in large enterprises.
But Microsoft Dynamics also targets the medium businesses by having a lower cost, more flexible product.
Second tier – 16%
The second tier represents 16% of the ERP market and is mostly aimed at medium businesses. This segment includes Infor and Epicor which are US based companies.
Third tier – 37%
The third tier includes thousands of small ERP companies that target small businesses. Their total market share is about 37%.
These companies mostly sell locally or offer industry-specific ERP.
If you are a small business starting an ERP implementation, I suggest you start looking locally for ERP companies that can help you for the years to come. Having a local partner when you're a small business is really an advantage.
---
This article is based in part on the 2012 report of Pandora Consulting Solutions.
Click here to find the original report.
---
Home > ERP Systems > ERP Market Share