You'll gain a lot of productivity by doing a
good business process optimization
Once the business process mapping is done, we'll find ways to optimize that model.
The goal here is to simplify your business process and to focus on tasks that bring value to the company.
How does it help for an ERP implementation?
A business process optimization is a great way to increase the ROI of your ERP implementation. Optimizing your business process allows the company to take maximum advantage of the new ERP functions.
Over time, a business process can become clogged and a loss of productivity happens. Doing a cleanup is important to get the most value out of an ERP system.
Having an ERP implemented over an old business process is like putting a brand new engine in a 30 year-old car. You'll get some benefits, but chances are that the old car won't be able to manage new engine's power (if it fits at all).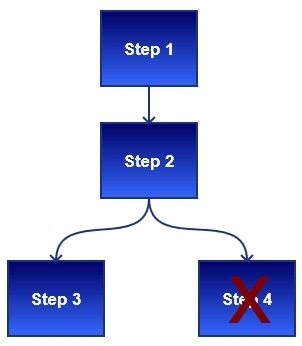 Here are the most common flaws in a business process that you should look for:
tasks that are repeated throughout the process
manual tasks that can be automated by a software
over-complicated business processes
1) Simplify the business process
When creating the business process diagram, you may notice that parts of the business process are not mandatory to run the business. Simplify those processes and cut the tasks that don't bring value to your business.
All the tasks that ask to report, file, etc are not bringing value to the business. Eliminate them as much as possible.
Empower the employees in the business process. If an employee or department is responsible for a task, make sure he/she is the one responsible for that whole process. This way you'll make sure the system will be fed with the right information.
2) Eliminate repeated tasks
A repeated task does not bring any value to a company. It can be a task done repeatedly by a single employee or a task that is done once by many employees.
The single most repeated task that should be completely eliminated by the implementation of an ERP is data entry. Each information should be entered once in the company's system. Never more.
If the information is needed in a different system – customers information for example – it should be synchronized without any user's interaction. It's pretty simple to do nowadays, even for small businesses.
Another example would be that if you have 5 employees doing the same task in different parts of the process, you could give that task to the same person and relieve the others from it.
3) Automate tasks through IT
This is where doing a business process optimization for an ERP system implementation makes all its sense. It will especially bring value if the company is using an old system or manual – paper – system.
By implementing an ERP or connecting your systems, you can get rid of many tasks that gets automated. You get value by automating two types of tasks
Short tasks that are repeated often
Long tasks that are automated in part. For example: an intelligent estimation software or a production software that automatically creates the employees' schedule.
Final note
A whole website could be done on business process optimization, but it's not the goal here. Hire a knowledgeable business analyst to do that work before an ERP implementation and you'll gain a lot of productivity.
What's next?
When the business process is optimized, the next step is to analyze the business needs for the ERP (THE most important phase of an ERP system implementation).
Home > ERP Implementation Project > Business Analysis > Process Optimization